After living in our house for 18 month, I finally decided to spruce up our downstairs bathroom a bit! My parents bought me a roll of Martha Stewart paintable bead board wallpaper for Christmas and I put it up Monday afternoon. So far, the makeover is going really well!
I was a little worried about putting the wallpaper up because it didn't come pre-pasted (you know, the kind you dip in water and then stick to the wall), but after buying a quart of wallpaper paste from home depot and rolling it on the walls like paint, I realized it wasn't too hard! It was actually very easy! I just did a section at a time- roll the roller in paste, roll it on the wall, and then stick the wallpaper to it. Easy peasy!
I decided I only wanted to go about 2/3 up the wall with the bead board, so I bought some trim to finish it off at the top & bottom. I started the bead board up a little higher up too, to give the illusion of taller base boards! I'll add another skinny piece of trim to the bottom of the bead board to finish the look. For now, here is the progress!
Before: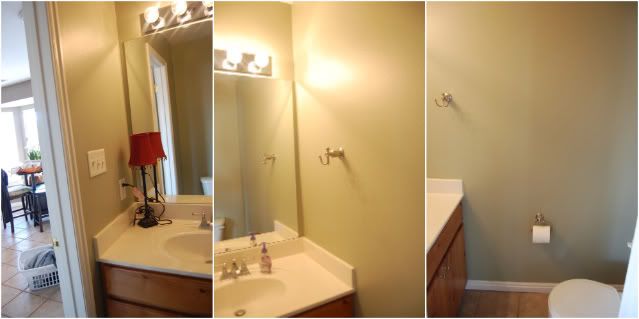 Almost done: